KANGNAM JEVISCO has launched Its Environmentally-Friendly Paint Brand 'PURUNSOL'.
2017.03.10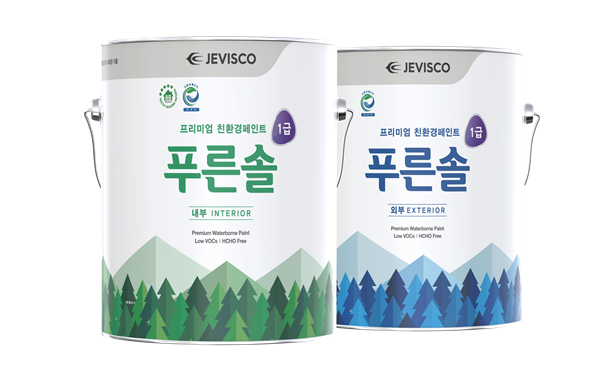 KANGNAM JEVISCO has launched its premium environmentally - friendly water-based (borne) paint brand, PURUNSOL. PURUNSOL is the new generation and eco-friendly paint brand which is composed of 6 kinds of products such as In/Ex KS First Class, PRO, GLOSS. When compared to the previously-launched eco-friendly products, it has less smell and enhanced the concealment power.
PURUNSOL has minimized VOCs which causes sick house syndrome, atopic, and tiredness. It is also free from the noxious heavy metal, HCHO, which is known to toxic to human body, and has achieved an eco-friendly mark from the Ministry of Environment.
Especially, PURUNSOL Interior gloss is the one-and-only interior gloss paint that has gained the top-rated five clovers, which is given to the products that release less air pollution-inducing materials, and is better to be used at hospitals, kindergartens, and restaurants.
By enhancing its viscosity function, PURUNSOL was improved in flow ability and minimized sink pigment while painting. It can easily formulate paint block after being stored for a long time.
In addition, its excellent surface texture enables the painting to be finished neatly, and its improved chromatic dispersion increases users' work efficiency. PURUNSOL is likely to be given positive responses from both experts and consumers.
To keep up with the eco-friendly trend in the Korean society, we have launched a premium eco-friendly water-borne brand, PURUNSOL, which also cares for our customers' well-being and the environment, said the official. PURUNSOL made by KANGNAM JEVISCO's technology and expertise can be the standard of eco-friendly paint and is expected to improve architecture environment.