KANGNAM JEVISCO CO., LTD. Environmentally-Friendly DIY Paint 'DREAM COAT' has launched.
2016.05.25
- 'Environmentally-Friendly anti-biotic paint' leading the way for enhancing home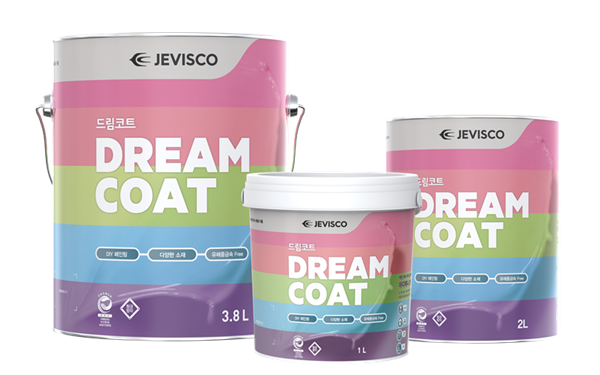 KANGNAM JEVISCO launched environmentally-friendly interior paint 'DREAM COAT' in this May 'the Month of family in Korea'. DREAM COAT is focusing on DIY projects and being environmentally friendly, while helping beginners use paint easily.
General consumers have been experiencing difficulty choosing and using the most appropriate paint in accordance with their needs. In order to solve such problems, DREAM COAT has its own special features allowing consumers to paint it on diverse materials such as wallpapers, concrete, wood and metals. It prevents fungi from growing through its anti-biotic function. "Because of its anti-pollutant feature, a healthy and clean space can be maintained throughout all four seasons." Also, DREAM COAT is environmentally-friendly product free from formaldehyde and heavy metals harmful to health.
On top of that, through automatic color mixing system at JEVISCO agents across the country, colors as desired by consumers can be made at site and it can be used as soon as desired color is formed.
KANGNAM JEVISCO stated "DREAM COAT is recommended to consumers for its simplicity of use and also its environmentally friendly and healthy features that make it the most suitable product for delicate spaces for children's activity, hospitals, postnatal care center and many other common, multi use facilities as well." DREAM COAT can be purchased at JEVISCO agents across the country.