KANGNAM JEVISCO Introduced New Automotive Refinish Products and Upgraded its Primary-Color
2016.11.15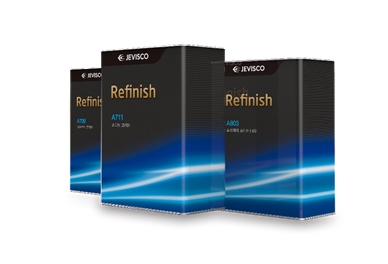 KANGNAM JEVISCO has announced the launch of its new automotive refinish products including 3types of 2K Clear and 22 types of Top coat Acretan which are used to commercial vehicle.
Foremost, Performax Clear has its special features with excellent gloss and strong prevention for scratch, A711 Speed Clear is known as its fast - drying speed as well as layer thickness that enables the user to paint conveniently. A803 Premium Clear HS was invented on premium product that is applied to premium passenger vehicles, and provide remarkable gloss and thick layer.
In parallel with its launching, KANGNAM JEVISCO has newly added 22colors of Top Coat Acretan reflecting the newest trend in order to widen color selection. Newly added primary colors are composed of 8 SOILD, 8 PEARL and MATT 6 and can express 299 variety of colors based on 49kinds of original colors.
With the launch of the new products, KANGNAM JEVISCO has one more step forward to upgrade its automotive refinish product line, and reconsiders the convenience of customers choosing products easily by renewing the packages which is applied to JEVISCO BI.
An official of KANGNAM JEVISCO said, "In order to meet the needs of customers who want their car colors stay the same like the moment they bought their car, we try to provide the best quality products through continuous research and development". He also said that the company would expand its market share in the automotive refinish paints sector with its new product, JEVISCO REFINISH.